If you ask anyone who invests for a living, they will tell you that they look for assets or businesses that can grow their earnings, and that can produce and sell more at a lower cost. A good investment can achieve economies of scale as it grows, requiring less inputs, thus making the investment more valuable over time. The other thing a professional investor will tell you is that while you must own a diversified portfolio, the big gains or wins in their careers have come from a handful of investments. In other words, there are a few investments that have made outsized returns that allowed the overall portfolio to prosper and that they continued to own those investments for a long period of time.
With that in mind, let us look at just such and investment, and call it Company X. The chart below belongs to Company X and while Company X had been around for a very long time, it really hit its stride in the 1950s.
Suppose I told you the chart was the production of Company X and that Company X had not issued any additional shares, or added any leverage to achieve that growth in production?
Now suppose I told you that the production increase required only minimal additional inputs. If you were an investor, you would consider Company X an incredible "growth company" and you would tell everyone how you owned this great investment that just kept increasing its production and going up in value. It would be quite the story. If you owned a company that grew like this, you would likely not even consider selling it. Instead, you would probably be content to hold it, continuing to benefit from the gains made. This would be one of those investments that generated outsized returns helping to make the rest of the portfolio more successful.
Well it turns out that chart is of the U.S. corn grain yield since 1866, and all those gains accrued to the farm owners. Even though this was not the chart of a public company, the gains made and the resulting increase in value of the asset helped make a great many farm families very wealthy. While the chart reflects the gains made in corn yields, many of the innovations and operating improvements that led to those gains, have been applied to all crops.
The chart shows the gains began to accrue in the 1950s.  That is about the time that technological developments in agriculture really began to drive productivity. Innovations in genetics, fertilizers, equipment and farm organization enabled continuing output growth, while using much less labour and farmland. According to the USDA Economic Research Service, U.S. farm output grew by 170% between 1948 and 2015 at an average annual rate of 1.48%, but total inputs rose only 7% over the same period (Link to USDA article).
The results can be seen in the chart below:
It is important to note that these numbers reflect the aggregate production and that production gains for each crop will vary from one another. While the magnitude of the gains varies, directionally all crops have benefitted from the same trend. The amount of land, labour and inputs has declined as a smaller amount of land has generated more of the crops an increasing population has relied upon. This means margins have improved over the years, which has also driven valuations higher.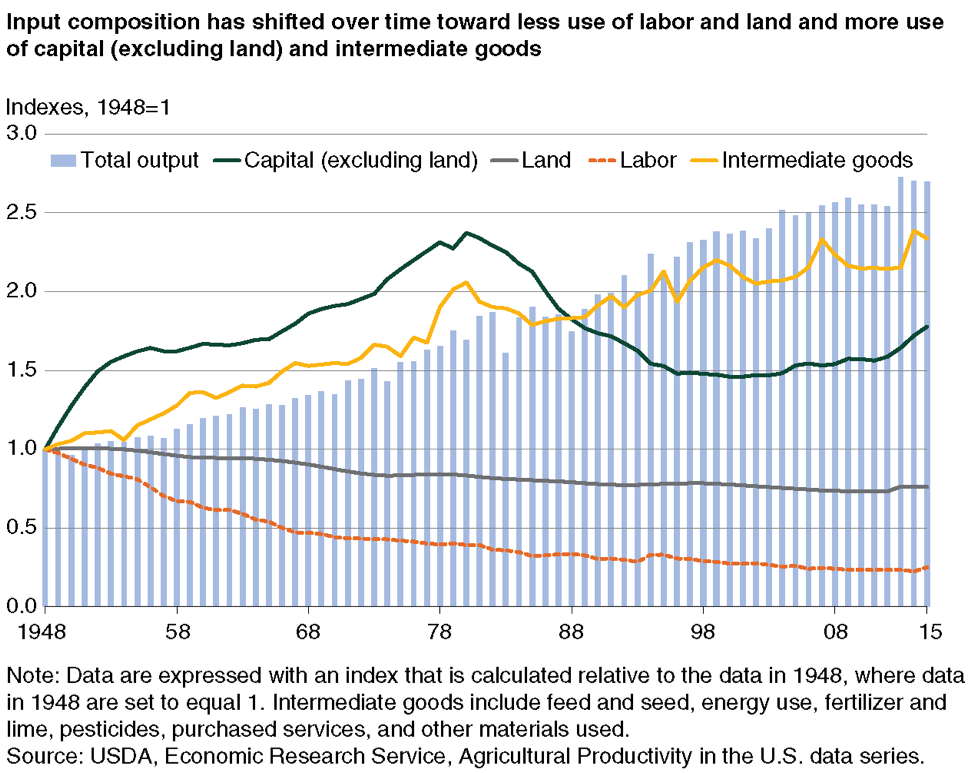 The trends from these charts tell a story of an industry that generates more produce with less land (quality land) and requires increasing amounts of capital (much of it land value) to gain those efficiencies. We believe this consolidation trend will continue to put a premium on the best land and will eventually mean large owners of that farmland help to drive those efficiencies. We believe that trend has been in place for 70 years and is reflected in the increasing values of Ontario farmland, arguably the best farmland not only in Canada but among the best in the world.
Farm Credit Canada and Statistics Canada data was used for calculation purposes. A 2.5% annual cash return has been included in the average total return of farmland in Ontario. 
I am often told that farmland has already appreciated greatly and that it is probably fully valued. From my vantage point as an investor, it is an asset that continues to generate more value through higher production, increased efficiencies and has outperformed based on fundamentals. If you own U.S. equities, operating earnings have been flat (they are actually lower) since the end of 2011, but the market capitalization of the equity market has more than doubled and corporate debt has reached record levels. The trend in farmland productivity has been needed over the past 70 years to ensure we can feed a growing global population. If that trend does not continue, we are likely to see a great deal of food price inflation, and as I mentioned in previous notes, there is arguably no better asset to hold during periods of inflation. Farmland has very quietly been a 70-year growth story that almost nobody knows about, because almost nobody outside of farm families own it. We think that is about to change
Written by AGinvest Senior Vice President of Business Development, Anthony Faiella. To reach Anthony please email Anthony.Faiella@AGinvestCanada.com
This information does not constitute financial or other professional advice and is general in nature. It does not take into account your specific circumstances and should not be acted on without full understanding of your current situation and future goals and objectives by a fully qualified financial advisor.